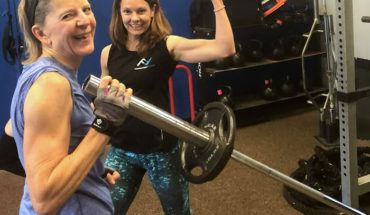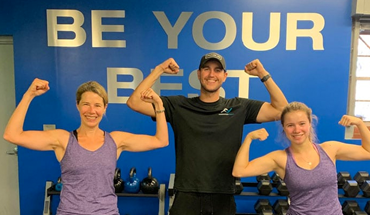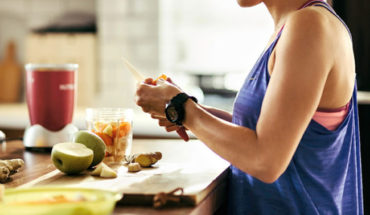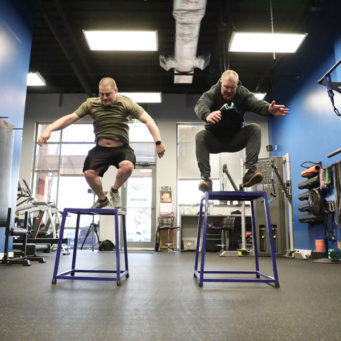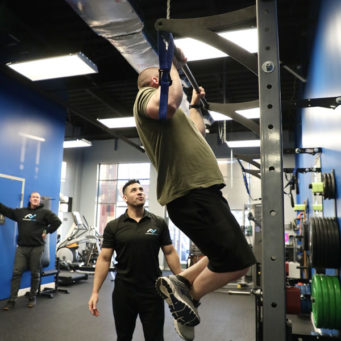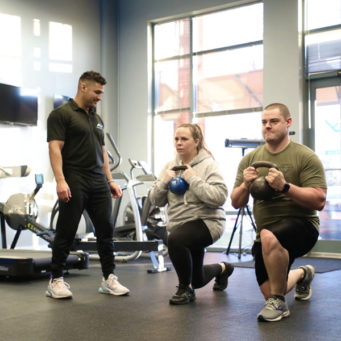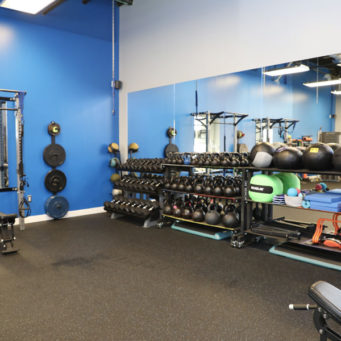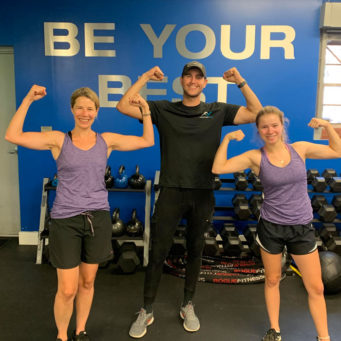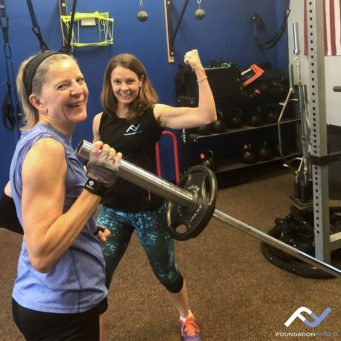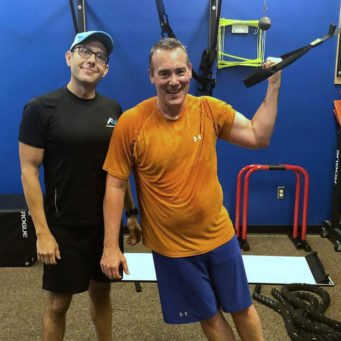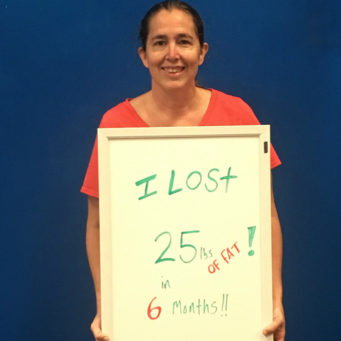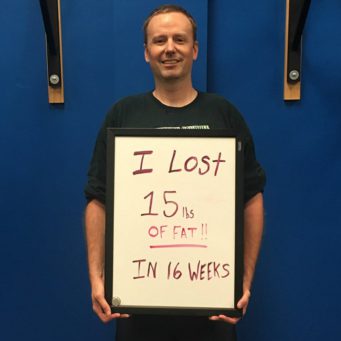 I've been active my whole life, but I felt like I turned 30 and wasn't making progress anymore. Kevin knew how to help right away by hooking me up with Maxine. Along with some nutrition guidance, Maxine was able to help me lose 15 pounds of fat in 4 months! The workouts have consistently been challenging but fun, and I'm always looking forward to the next one!

Molly Hesness
12:03 14 Sep 23
I meet Kevin on Easter Sunday and discussed my fitness journey, my goals for the future. Kevin was fantastic and walked me thru the 6week trial program. I am glad I made the decision. I have had great success and feel like I made a friend.I decided to make a 6month commitment and I continue to see and feel the results.

Philip Brown
19:31 29 Jun 23
I want to take a moment a share how grateful I am, that I met coach Kevin and coach Maxine, and for the impact that they have had on my life.Coach Maxine has been more than just a trainer to me; she has been a source of motivation and inspiration. Her positive attitude and energy have kept me going. Her guidance has been instrumental in helping me reach levels of strength and endurance that I never thought possible.Kevin's nutritional advice have helped me not only reach my physical goals but also improve my overall health and well-being.Thank you!

Julia Larina
23:32 08 May 23
If I could rate 5+ stars I would. I worked out with Kevin for a little under a year. My original plan was just 6 months, however with the knowledge and guidance Kevin was giving me, 6 months seemed too short. I started off as someone who had never weight trained and knew very minimal about form and how to lift weights. Kevin was always very patient with me, taught me proper form, and as a result he gave me confidence that I wouldn't have had without Foundation Fitness. After moving and no longer in the Ashburn area, I feel confident about what I'm doing in the gym thanks to Kevin and will continue to use those skills for years and years to come!!

Katie Patel
17:47 23 Apr 23
Kevin has been wonderful as a trainer and teacher. I have been learning how to activate/reactivate muscles that haven't been engaged in years. He is knowledgeable in all areas of body movement and I've also learned nutrition tips from him. I would definitely recommend Foundation Fitness.

If you are serious about physical health, I recommend Sean and Foundation Fitness of Ashburn. I worked with Sean for six months and learned a lot. Trainers focus on overall fitness, not just lifting weights. They work with you on your diet, exercise, mobility, etc.Before joining Foundation Fitness, I used to work out five days a week, doing the push pull routines and I was getting mediocre results.After joining foundation fitness, I worked out 2-3 days a week and could see the results in just three months. We mainly focused on compound movements, and Sean monitored my diet (primarily carb and protein intakes). Sean educated me about concepts like one rep max and what to eat/when to eat.What I liked:- Professional and friendly staff- Flexible around your schedule- Great facility/equipment

Paarth Mahajan
20:53 03 Feb 23
Having started working with Kevin in late October 2022 I have already noticed increased muscle control and definition. He is motivating educating and encouraging. I do have to warn you if you asked him any questions about his strongman competitions he will show you the video.

Joel Turner
21:17 05 Jan 23
My Husband and I worked with Kevin for about 10 months leading up to our wedding. Kevin is knowledgeable, helpful, and (above all) entertaining. He listened to our goals and brought a multi-level approach to achieving them through fitness and nutrition. We loved working with Kevin and were so sad to leave, but we had the best experience working with Kevin (and Shaun)!!

Jennifer Schonborn
15:56 13 Oct 22
Kevin and Sean are there to build a program that works for you - they have the knowledge and experience to help you define and achieve your goals. Highly recommend!!

Brenda Leong
16:57 02 Sep 22
Kevin has been working with me for a while now, he always is ready for whatever i bring that day. If I'm having a bad day he pushes me through it, if my shoulder starts to hurt he adjusts the exercise to suit my needs, and best of all makes me always want to go every morning by being a joy to train under! I highly recommend this place to anyone who wants to have a great workout with fantastic trainers

Leeza Norton
23:56 27 Jun 22
Great staff, equipment and facility!

Dega schembri
19:32 03 May 22
This is a great facility! Kevin is an awesome manager and a great motivator! Ashburn is a gem! Highly recommend!!


Wayne Gooden
20:25 16 Apr 22

James Zimmerer
20:20 16 Apr 22
I've been working with Kevin for about half a year and before coming to Foundation Fitness, I never imagined how strong I would become! Kevin is an amazing trainer who knows how to customize your workout based on your goals and body's needs. He's knowledgeable in how bodies work/move and will adjust your form accordingly. I also appreciate the care that's put into the gym to keep it clean.

Sophia Kaleem
23:05 27 Mar 22
I worked with Kevin for more than half year . Kevin was a great coach, he definitely knows his stuff and he was capable of applying different training methodology to the right person. The studio is one of the cleanest gym I had ever seen. It was a great experience overall. Will recommend to my friends.

Zehan Wang
02:59 19 Dec 21
I have been working with Sean for almost a year now. 10/10 would recommend Sean and Foundation Fitness to anyone looking to make life changes. Sean is very accommodating, knowledgeable about fitness and nutrition, and will customize a program that works best for you. This is the first time I have ever used a personal trainer to help me with my fitness goals and I couldn't be more satisfied.

Edmund John Poell
17:25 19 Nov 21
Ive been working with Sean at this location for over a year. I can't describe how thankful I am for his flexibility to work around my hectic work schedule and make time for me ALWAYS! On top of being a top notch fitness professional, I also love that he is willing to try new workout styles (i.e. we picked up boxing at the end of our sessions) to cater the workout to my wants and mood of the day! I swear it's like he's a mind reader and can tell what type of workout you truly exactly need that day! It took me several tries to find "the ONE" but Sean is it!!! :)I also enjoy the studio vibe at this location. The other trainers are just as amazing too and super friendly. It creates for such an inclusive, fun, and positive environment for all customers.

Alketa Tanushi
03:12 19 Nov 21
I've been working with a personal trainer at Foundation Fitness and seeing great results! In the past, trainers have pushed me too hard and I dreaded going and felt very sore the next day. Sessions with Kevin at FF are at a great pace for me where I'm getting results and enjoying it and I'm keeping it up! Highly recommend.

Kathy O'Day
11:48 28 Sep 21
I have been working out at Foundation Fitness of Ashburn before it was Foundation Fitness! I currently work out with Kevin. He is a very attentive trainer. He pays attention to a client's training goals, physical condition and special needs (like injuries or weak body parts). I appreciate his knowledge of the human body and muscle system. He has helped me strengthen a gimpy shoulder and increase my strength at the same time. He is quite flexible in scheduling, which is important to me as I travel some for work. And he pays attention to my desire to train without other people in the gym because of the coronavirus. Kevin pays personal attention to the gym being clean and sanitized, which I appreciate. Overall, I highly recommend Foundation Fitness of Ashburn and Kevin.

Margaret McCulla
18:06 19 Aug 21
I highly recommend Kevin at Foundation Fitness to anyone who wants to get in shape. He is knowledgeable and helpful, and will get you out of your comfort zone. He listens and helps you achieve your goals by making the workouts enjoyable with humor and conversation. You will be sore afterwards, but it will all be worth it!

Allison Richards
20:37 17 Jul 21
I've been working with Kevin almost 6 months now and it's been way better than expected! Short story: I work in the automotive field working on transmissions. The other day a customer of ours brought in his own transmission to drop off to us. Not abnormal BUT what was unusual is he had put it on the back seat of his car. Not an ideal situation for getting it out of the car since it's awkwardly shaped and heavy. Normally we'd use two people to lift it up and out of a car, usually someone's trunk of tailgate. Since it was in the back seat it's hard to get two people to fit into the door. Well.... thanks to Kevin and his training..... I was able to lift the transmission out BY MYSELF and carry it over to the cart it needed to be placed on!! Thank you Kevin, I look forward to seeing what results continue to come from training with you!

Foundation Fitness of Ashburn is an amazing gym. Unlike the big chain gyms, the trainers are extremely knowledgeable and you can tell they really care about your health. The gym is always clean, especially since the the pandemic, and I feel safe working out there. Whether you are a serious athlete or just want a comfortable place to workout, I highly recommend this gym. If I could give it more than 5 stars I would!

Jessi Johnson
00:40 20 Feb 21
If you're looking to get the most out of your workout, look no further than this gym. Unlike big-box gyms, you'll get pushed to your full potential. The facilities are cleaner than the other gyms, and I feel safe whereas in my old gym I would leave feeling uncomfortable and worried. You definitely get more bang for your buck.

Matt Graybill
00:05 20 Feb 21
Kevin is amazing, and I would highly recommend him to anyone, from the novice to a more experienced lifter. He's extremely knowledgeable about anatomy and how the body moves and functions in different exercises, and teaches you correct form, hand/foot placement, and breath work. Definitely check this place out!

Carly Flumer
00:35 17 Feb 21
When I first joined Foundation Fitness with Kevin 6 months ago, I hoped to lose a couple pounds. I'm thrilled beyond words and happy to say that it has changed my life. My confidence is through the roof. I am walking a little taller, smiling a little more, and literally living my best life. Many say they can't afford personal training but investing in yourself, your happiness, your future is the best investment money can buy.

Lisa Toplansky
16:51 18 Sep 20
I started working with Kevin at Foundation Fitness about a year ago; I was suffering from chronic sciatic pain in my right leg and trying to avoid surgery. Kevin evaluated my movement and identified the source of my pain. I was pain free within the first 3 months of working with him. Now we are focusing on regaining my lower body strength after years of sitting at a desk. If you are looking for an educated, experienced physical trainer then I highly recommend Kevin and Foundation Fitness.

Amanda Dawson
19:08 08 Oct 19
Really wish I could give them more that a five! When I first met with Kevin at Foundation Fitness I had utilized the personal training at my local gym and I can honestly tell you that they don't know what in the world they are doing. I have been working with Kevin for about a month and I am extremely satisfied with the results I'm seeing! Every session gets gradually harder as I become stronger and in better shape. The training environment is a very fun, open atmosphere. Kevin is an all around trainer who adapts, as my workout needs change. I look forward to every session and am excited to work with him multiple times a week. I would recommend Kevin and Foundation Fitness to anyone serious about wanting to get fit!

Karen Thompson
21:13 07 Mar 19
I have been at this studio for about 3 years. i have worked out since i was a kid, and stopped for a few years when my kids were born. I came to the studio and i got back in shape. People generally think i am 10-15 years younger that i am. I have back injuries that i some pain, but through exercise-muscles building, my constant pain has eased. Love my trainers at foundation fitness! i will probably grow old here.

Berenice Alfonso
14:58 31 Dec 18
Small classes and great workouts. I just finished the Six Week Challenge and am excited about continuing with Foundation Fitness. The sessions are tough but I'm never "guilted" into pushing myself beyond what I can safely do. This is the first training that I've stuck with longer than a month, thanks Kevin.

Marjorie White
21:08 24 Oct 18
Love it! Incredible workout every time! In addition to strength training and conditioning, you also get nutritional coaching. Awesome program! Kevin really pushes you to achieve your fitness goals.

When I began the New You Challenge with Kevin, I feared I would never make it through to the end. Not only did I finish it, I signed up for a six month session after it! Kevin and his staff are very knowledgeable and are supportive in every way. They pay close attention to form and proper intensity. Kevin and his staff are very motivational. I highly recommend the program.

Ceci Futrell
09:57 18 Oct 18
I am very pleased with the results from the 6 week challenge, that Foundation Fitness of Ashburn offered! I have continued to work with foundation Fitness to further my health aspirations. The classes are just the right size so the trainers can keep an eye out on all of the participants and they are knowledgeable in more health aspects than just exercise. I will highly recommend them to anyone looking for a challenge and a new way of being!Rachel E.

Rachel Evering
22:39 17 Oct 18
AJ is experienced, professional and has enabled me to reach goals I had never been able to get close to before. And he's a fun guy too!

I was a member at Lifetime before joining here. I enjoyed working out, but absolutely hated the people there. The douchbaggery and pretentiousness made it practically unbearable. On a whim, I accepted an invite from a friend to try her kettlebell class at Foundation Fitness. I enjoyed it so much, I canceled my other membership the next day. It's now been almost two years, and I've never regretted moving over. Before I joined Foundation Fitness I had never picked up a kettlebell, but now I can swing it with the best of them. It's not really about just lifting weights and doing cardio. It's a whole adjustment of your fitness routine, centered around functional strength. They're small classes (3-10 folks, depending on which class), so you'll never have to compete with anyone for weights or space. The level of instruction here is top-notch. My main trainer has been Brian Wright, and he is really great. But I've also had time to get to know a few of the other trainers: Adam, Cynthia, and Stevens are also really great and very personable. No matter if you're starting a fitness journey for the first time or changing up your routine after years of working out, this place will still work great for you.I even train with Brian in a separate group outside of our class time, because I like him so much and the training and instruction is so good! This is the strongest I've ever been in my entire life and I'm so happy with the results.If you're considering a small class setting, I HIGHLY recommend Foundation Fitness in Ashburn.

Chris Hansen
13:37 17 Apr 18
I have been working out with kettlebells for the past 5 years. Hardstyle kettlebell has given me strength and confidence to keep getting stronger. The programs at Foundation Fitness, Ashburn are customized to each individual's needs. Even if you have a specific goal the well-rounded workouts get you stronger in a comprehensive way. I've participated in the last 4 Tactical Strength Challenges and every time hit a new PR in multiple events. The Sunday open gym programs are like the icing on the cake of building strength - focus, supportive camaraderie, and motivating energy.

Great place! Brian is an outstanding trainer. I would rrcommend this facility to anyone who is serious about training and getting into shape.

Mary O'Brien
22:07 06 Feb 18
I've worked with AJ for about three years. I knew him back when he was just a journalist. Now I know him as a great and supportive trainer who has been there for me through some significant weight loss.

Dan Friedell
21:15 24 Jan 18
AJ Perez has been my trainer for 3 years and I absolutely love his approach. He is able to motivate me without me even knowing it and push me further over time than I was able to push myself. I highly recommend him!

Hugo Greyling
01:32 23 Jan 18
Great personal training here.

Joel Abrahamson
01:48 22 Jan 18
Foundation Fitness has a very supportive, understanding, and knowledgeable staff. I am constantly being challenged with new exercises. The facility is in a great location. Personal training with AJ Perez has been especially helpful to me!

Todd Grivetti
01:37 22 Jan 18
I've been a recreational athlete all my life and BW-PT is the only group exercise program that I not only have maintained twice a week for close to a year now, but have seen substantial strength, endurance, and mobility results with. BW-PT trainers are professional and passionate. They make classes challenging but fun. I had never picked up a kettle bell before going to BW-PT and not once did I felt intimidated or overwhelmed by the classes or movements. BW-PT trainers pay close attention to each client making sure they are in proper form, particularly if you are a newbie. I love the small class sizes and diversity of each workout. If you are looking for a killer full body workout, BW-PT is your place. Be forewarned though, you will be addicted.

Lauren Brinkac
15:42 30 Oct 14
Love, Love, love kettle bells and all it has afforded me to be able to do! Love being able to make small and long term goals that are definitely attainable. Thanks to Brian and my trainer Adam, I had dropped over 40lbs and increased my strength! Today I was able to PR the Army 10 Miler by more than 15 minutes!!! I attribute this to the muscles strength I have gained and the weight I have lost!Love that the works are varied and Adam has new challenges every time! Thanks allowing me such and awesome experience! I look forward to my classes every week!

Patty Glass
23:29 12 Oct 14
Brian Wright does a phenomenal job customizing your workout experience to get the results you need in a safe manner. His enthusiasm, attention to detail, and willingness to go above what I expected from my personal trainer was amazing. Thank you BW-PT for being top notch!

Aliyah Dastour
18:30 21 Aug 14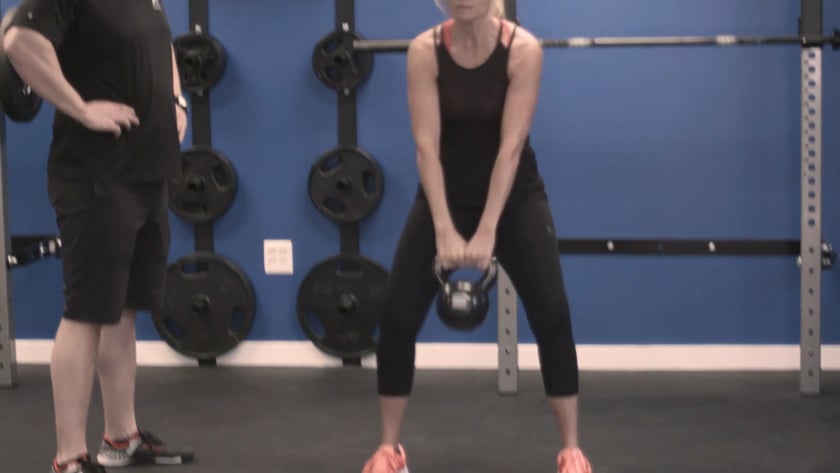 If you're ready to take on the challenge and commitment, join the movement at Foundation Fitness and see what it feels like to #BEYOURBEST!
Join the #BEYOURBEST Movement at Ashburn's Neighborhood Personal Training Studio!